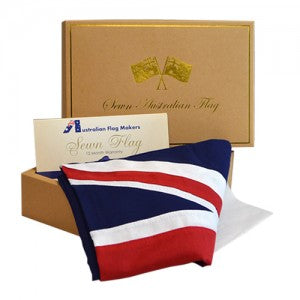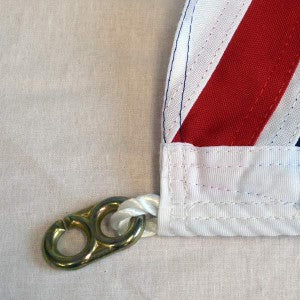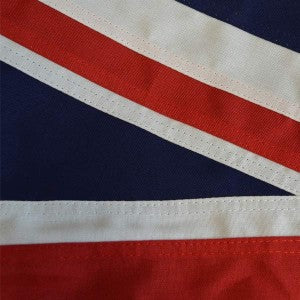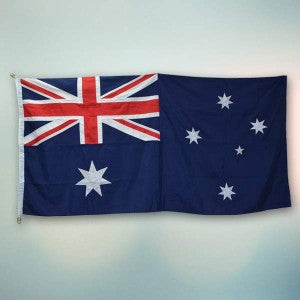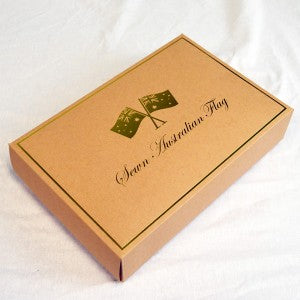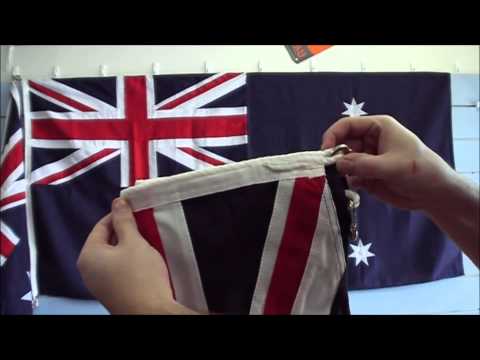 Fully Sewn Australian Flag - Outdoor Use - Gift Boxed

Dispatch In: 1-2 Days - Australian Made
Comes packaged in a special gift box
Standard size: 1800mm x 900mm, or 3 feet x 6 feet
700 Denier woven bunting
Double layered corner reinforcement
Union Jack is fully sewn on top left corner
Comes packaged in a special gift box
All stars are appliqued on a blue field
Metal marine clips easily attach to a nylon rope
Double stitched construction throughout
1 year warranty*
This flag is ready to fly!
Sewn Australian Flag - Australian Made

Take your Australian pride to new heights with the sewn Australian Flag from Australian Flag Makers. Unlike other flags that are printed on a single piece of fabric, this premium sewn flag is comprised of individually dyed pieces. Each stripe of the Union Jack is dyed separately and sewn together with double stitching for a superior finish. Stars are precisely cut and appliqued directly on the blue field to ensure corners remain sharp and the lines remain crisp.

Our sewn flags are Australian made by our experienced, knowledgeable, and dedicated team of flag makers who understand the pride and importance of flying the Australian flag. That's why we create flags with intention that you can fly proudly outside government buildings, public establishments, schools, homes, and more.

Constructed Out of Industry-Leading Materials

The sewn Australian flag from Australian Flag Makers is the most durable flag on the market. Made out of 700 denier woven bunting that we created especially for this this design, our heavy-duty woven polyester flag is made to fly in the wind, rain, and harsh UV rays of the sun.

Marine-grade nylon rope is double sewn on the hoist side of the flag with metal clips to ensure your flag flies properly, even on the tallest poles. Double layered reinforcements run along each corner to prevent fraying and all individually dyed pieces of the Union Jack, and the Union Jack design itself, are double stitched.

Because our sewn Australian flag is of the highest quality, and it comes packaged in a special gift box, it's the perfect gift for Military members, veterans, their families, and anyone else who wants to display their Australian pride with a world-class flag.

Peace-of-Mind One Year Warranty

The highest quality materials and construction go into creating one of our premium sewn flags, so we're confident it will last longer than any other flag on the market. That's why we are proud to offer a one year warranty. If your flag frays, fades, or unravels prematurely, simply contact our customer service department and we'll replace it free of charge.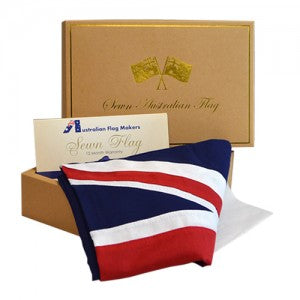 How long untill you ship?

Most orders dispatch next business day. Please check on the product page for a dispatch time. If the ordered item is out of stock we will contact you.

We use StarTrack and Express Post, we have found these to be the most reliable courier services.
How long will it take to get my order?

Shipping takes 1-2 days for most metro areas. Regional locations can take longer.
Are your flags Australian made?

Absolutely, Our print facility and offices are based in Geebung QLD. We have been manufacturing flags and banners for over 15 years. Here is our Australian Made Certificate
Yes, you have 7 days to return for a full refund less the shipping cost. The item must not used in any way.
We accept all major credit cards, Paypal and Direct deposit/bank transfers. If you or your organisation prefers to pay via Direct deposit/bank transfer, use this payment method. After you submit your order you will recieve by email your invoice with our bank details. You will need to select (More Payment Options) under the checkout button.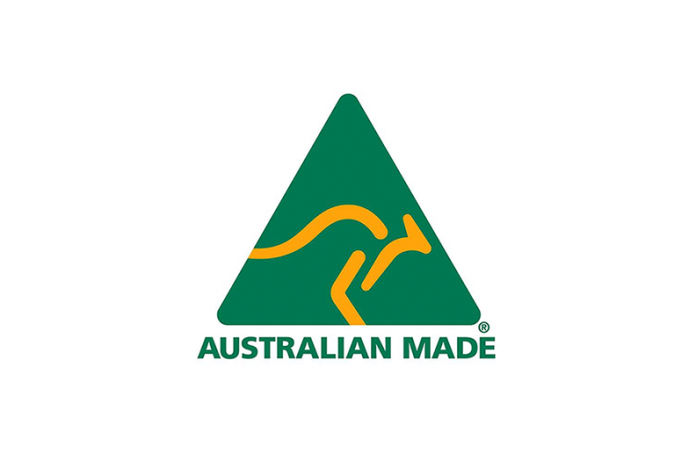 Australian Made
Our flags are manufactured in Australia at our printing facility in Geebung QLD.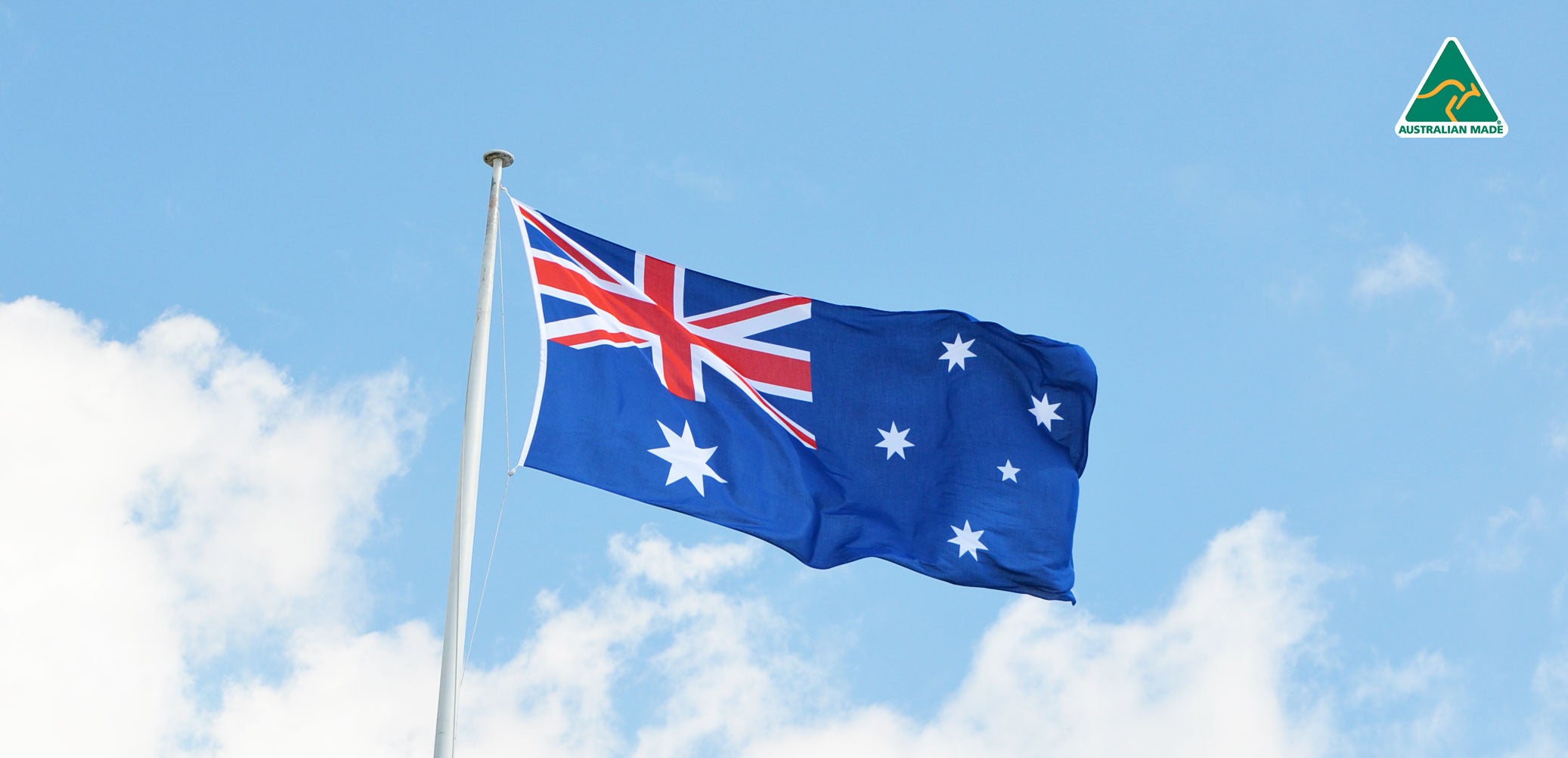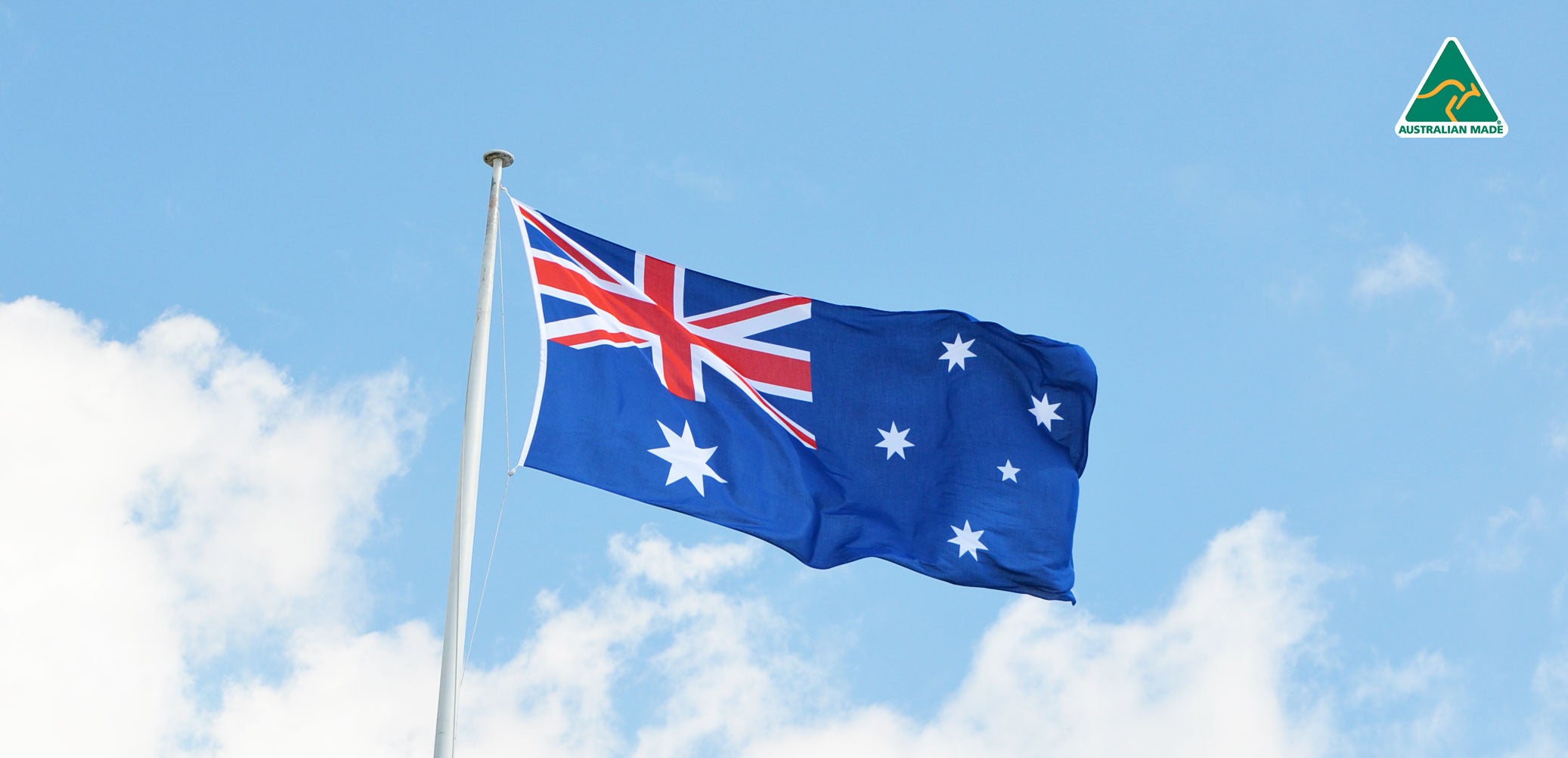 6m Flag Pole
Standard pole for home and business.
High Grade Australian Flag
Standard size flag for a 6m flag pole is 180cm x 90cm
Rope and clips
Standard fixtures for a flag is rope and clips.
Hemmed with reinforced corners
All of our flags are reinforced in the fly corners.